I haven't been out of the house much since my surgery but I took Laura to go tan a couple days ago and while she was in there I walked down the College Hill and stopped into Hill Street News & Tobacco to look at magazines for a bit. While I was in there killing time my friend Noel called me on my cell phone. He wanted to know where I was at because he had a present for me.
He drove to the hill and got there right when Laura was done tanning. He had a little cigar box. I told him, "Noel, you are a dumb ass because you know I quit smoking". I was just joking but I did wonder what was in the box.
When he opened it up I saw that it was full of all these little knick-knacks. He knew I would like it. He said he bought the whole box for five bucks from some lady at the public library.
I didn't get a real good look at all the stuff that was in there until I got home and dumped it all out on the table. Here is some photos of the stuff that was inside:
All sorts of random cool junk.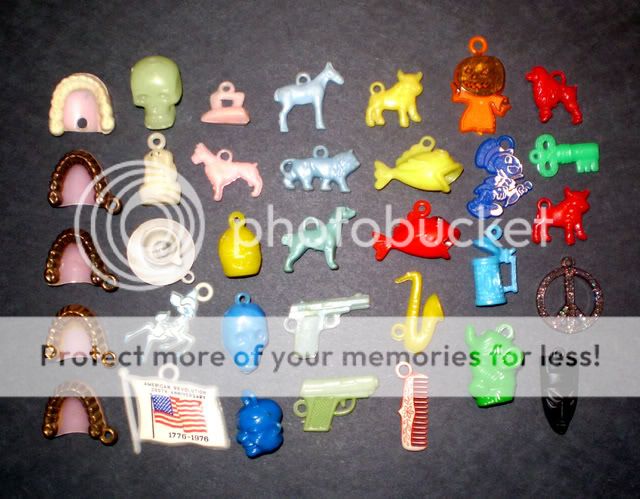 There was a whole shitload of charms and I recognized a few of them as old "Cracker Jack" prizes because I've seen some of them at antique shows.
I let my daughter Sam put all the charms on a bracelet.
Here's a picture of all the rings that were in there. My favorite one was a really cool "motion" ring that flipped back and forth between the wolfman and the creature from the black lagoon. There was also a lot of Hostess rings. My dad worked for Hostess all through my childhood so we always had these laying around the house. There is also a yellow "Twinkie the Kid" ring I have a couple of them in my studio because they remind me of my dad and how me and my brother and sisters would raid his truck when he stopped home for lunch.
Anyway, thanks a bunch Noel. That was a neat gift.