Back in 1985 when the Garbage Pail Kids were just beginning to disgust the world the Gross Bears were hiding in the shadows getting the cold shoulder. A wonderful series in my opinion all painted by Tom Bunk they kind of seemed to get swept under the rug.
The Gross Bears were a set of 29 pins depicting Care Bear-like characters in GPK style. During this time Bunk was also busy at Topps working on the card backs for series 1 & 2 of the Garbage Pail Kids. He started his work on the fronts with the 3rd series.
I missed the Gross Bears back in the day and now that I'm highly interested the buttons are not only hard to find but pricey. I spent a long time searching for good scans of Tom's artwork for the series but came up empty handed. Eventually I found the best thing to do was go straight to the source. Tom emailed me some decent scans of not only the full set, but package art and some artwork that never made it into the set.
#14 TEAR BEAR
#7 HEADY BEAR
#6 PIG-OUT BEAR
#5 GOODBYE BEAR
#28 BUTT BEAR
#29 BARE BEAR
#2 KILLER BEAR
#19 CYCLOPS BEAR
#26 BAT BEAR
#8 RAMBEAR
#18 LOUSY BEAR
#4 BARF BEAR
#24 BONY BEAR
#20 SCAR BEAR
#25 TRASH BEAR
#15 FRANKENBEAR
#10 RUG BEAR
#23 MELTED BEAR
#3 FLAT BEAR
#17 GO BEAR
#13 SPIKY BEAR
#27 BICEP BEAR
#12 BONKERS BEAR
#21 PUNK BEAR
#16 B.O. BEAR
#1 FLARE BEAR
#22 ZIT BEAR
#9 BIG SHOT BEAR
#11 EVERYWHERE BEAR
Here's the little box the buttons come in.
Tom also sent me a scan of a few bears that didn't make the set.
Not-all-there Bear
Deady Bear
Blender Bear??
The first and third were remade into Garbage Pail Kids later on.
The fourth "lost" bear is one of my favorites. GPK artist Mark Pingitore heard I was looking for good scans and sent me this photo of "Have it your way Burger Bear". He bought the original art off Ebay. Thanks again Mark.
This idea was also used later for the Garbage Pail Kids.
So I finally broke down and bought a pin off Ebay. The one I got was Spiky Bear which kind of sucked because I already had the t-shirt iron-on and I was hoping to see one of the other ones up close.
I drew a couple Gross Bear inspired illustrations from the little box.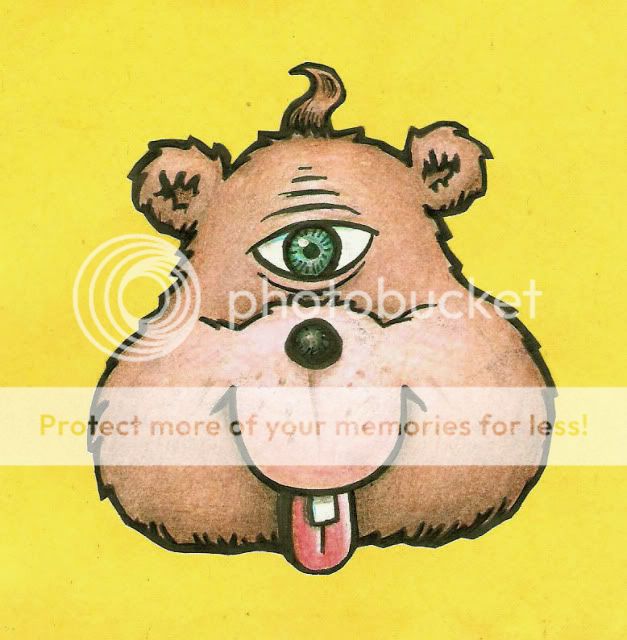 Thanks Tom and Mark for the help with the photos. Hopefully I'll be able to get a complete collection someday.