In 1989 Topps released the Stupid Smiles sticker cards. Tom Bunk illustrated all of the 44 cards along with the package art.
Each card contains multiple stickers with different humorous variations of the smiley face with 241 gags in all which comes out to an average of 5 stickers per card.
Here is a scan of the box:
Here is a scan of the wax pack:
I bought a set of these last year and in hindsight wished I had bought two just so I had one set to save and the other to stick. There are so many great ideas in these that they are hilarious to look through.
The stickers are crammed onto the cards at different angles which makes these scans a neck breaker, but have fun looking through the collection! There are a bunch I should comment on but I may have to come back to that later.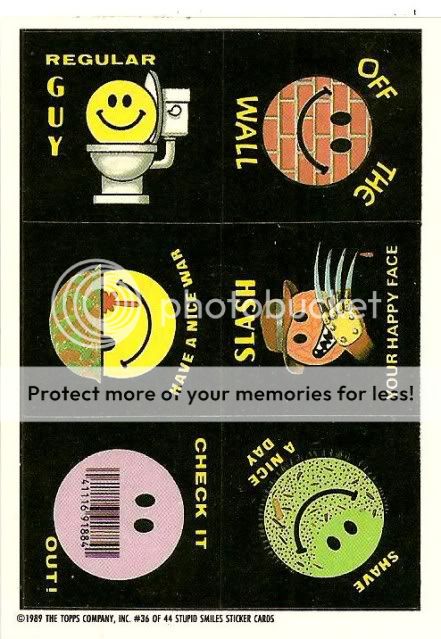 The backs of the cards contain pieces that form 4 puzzles of fine art masked by smiley faces. The Mona Lisa, Birth of Venus, Whistler's Mother, and The Persistence of Memory.
These would have made some great buttons or T-shirts. I might just select certain ones to send to people through Facebook just for fun?