Finally the last post of the Topps 1980 trading cards, the Weird Wheels series. There's a bunch of stuff I could go into with this such as the "Kustom Kulture" style and the Big Daddy Roth "Rat Fink" type theme, but I really don't care too much about artwork involving hot rod cars and stuff to spend much time dwelling on it. If it is something that interests any of you "funtime" readers just Google (Ed Roth, Kustom Kulture, Rat Fink, etc...).
There are a few influences for this set that I may elaborate on at a further date such as the major trading card influences such as the Donruss "Odd Rods" series and the mosters in dragsters influence of the Aurora model kits (DRACULA'S DRAGSTER, FRANKENSTEIN'S FLIVVER, WOLFMAN'S WAGON, MUMMY'S CHARIOT, GODZILLA'S GO-CART, KING KONG'S THRONESTER) sounds like a fun post for later?
Anyway, lets get to the friggin cards already...
As always, the box and wrapper:
There's also a debate as far as the art is concerned regarding who painted what. Even the artists known to be involved with the series seem to have a foggy memory when it comes to remembering who did what. Personally I would not forget to take credit for some amzing work, but maybe at the time it didn't seem as big of a deal for them as it is for the fans today. It has been said that Norm Saunders painted over 20 of the cards and it is speculated that the other mystery artist was Gary Hallgren. Other sources have said Saunders only "touched up" the 20 plus cards credited to him and that the other artist is still unknown? I do read my comments, so if anyone feels like coming forward or solving a riddle, I know I'd like to know.
Here's the cards!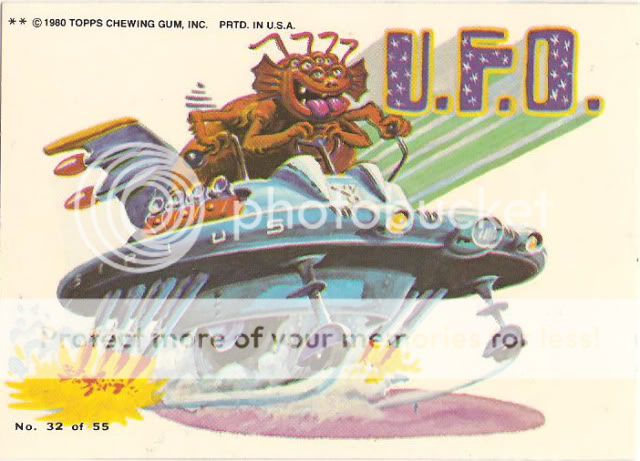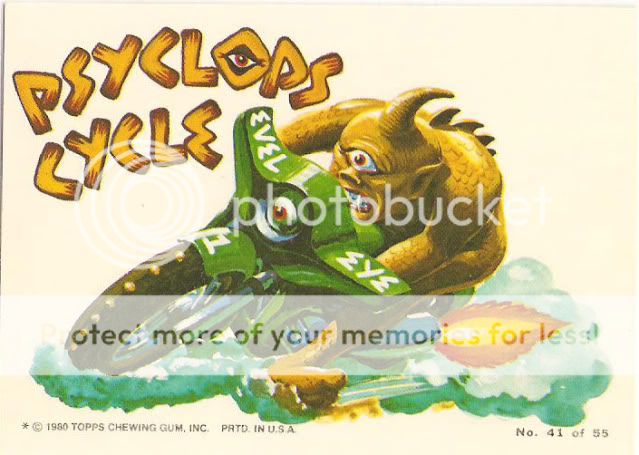 The cards backs include peeling instructions, puzzle-backs, and of course a checklist.
A while back I decided to redraw one of my favorite cards from the series. Here is a scan of the inked/colored illustrations.
COMING UP NEXT: TOPPS 1981 DALLAS CHEERLEADER CARDS
(these aren't technically "non-sports" cards but hey, they are cheerleaders! And I just happen to own the whole set.)