Time for the next installment of my Topps 1980s posts!!
SUPERMAN II- MOVIE PICTURE CARDS
Here's the wrapper in the classic Superman red, yellow, and blue.
As far as wrapper variations go, the only one I've come across is the Bazooka gum ad.
Like the majority of Topps movie cards around this time, the set has 88 cards and 22 stickers (and of course a stick of gum).
There is a lot of reminiscent charm involved with collecting these for me. Peeling open the wax wrapper, smelling the gum and the brown cardstock, shuffling through the stack sorting them, throwing out the miscut ones and the ones with offset printing, reading through the corny card titles... kind of like a trip back in time.
Enough of that, let's check out the cards!
All the best 80s sets had a header card which looks great on the top of your completed set. I wish they made these for current sets.
Most of the 80s movie sets also started out with character cards introducing all the major players. In this set they are called "Kryptonian Crystal Bank Archives" which I guess means they are from the information stored in the crystal banks at Superman's arctic hideout? Stupid.
Actress Margot Kidder played Lois Lane in all four of the 80s Superman movies. That's back when the movie industry did it's best to keep the same actors/actresses in the sequels.
As a neat tidbit Margot posed in the March 1975 issue of Playboy.
(How do you like my censoring job?)
Terence Stamp who played General Zod in this movie played Chancellor Velorum 19 years later in Star Wars Episode 1: The Phantom Menace.
He also returned to his union with the Superman franchise as the voice of Superman's father Jor-el on Tv's Smallville in 2001.
Jack O'Halloran who played the strong but silent character Non was an ex-heavyweight boxer and actually came up with the idea for his character to be mute.
Sarah Douglas who played the beautiful but deadly Ursa also played Queen Taramis in the movie Conan the Destroyer with Arnold Schwarzenegger in 1984. Type-cast as a comic book villainess (unfortunately never posed for Playboy).
Allright, it's Ned Beatty. No Deliverance Jokes.
If Marc McClure, the actor who played Jimmy Olsen, looks a little familiar you may have seen Back to the Future as many times as I have. He also played Marty's brother Dave McFly in the first and third movies in that series.
"See ya later, Pop. Whooo, time to change that oil!"
So that's the main cast, now lets get along to the story.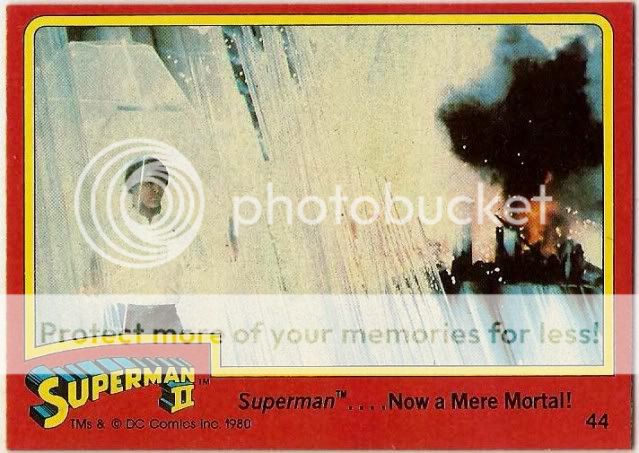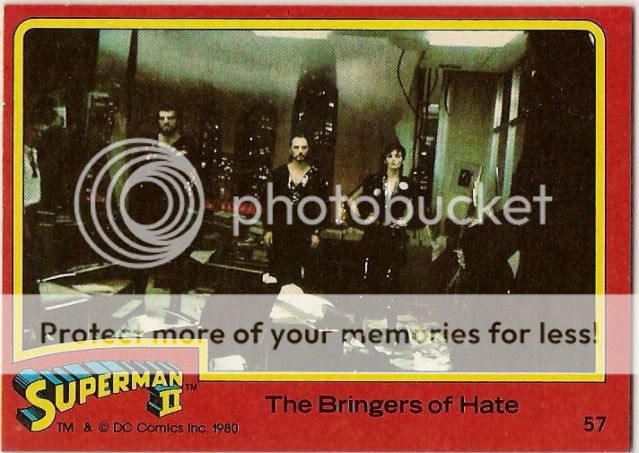 Watch the whole battle on Youtube.
The reverse sides of the cards that don't have character profiles, star quotes, or movie summaries have pieces to form puzzles A-F.
Complete a Superman 2 card set with 22 superiffic stickers!