Topps Stick-ons released in 1981 were originally sold as "Put-ons" in 1968. I'm including them in the 1980s cards since this is the set I own.
You can tell the cards were originally from the 60s due to the Beatles references (I am the egg man, strawberry fields forever) and a few of the other ones (Love, revolution now, etc).
These cards are relatively small but have 4-6 stickers on each one. I still wish I would have bought two sets so I could have stuck a few of them on stuff. Oh well.
This one is one of my faves because of the Wacky Packages cameo of "Gadzooka" from the 1st series.
There are puzzle backs on the reverse sides of the cards which form a red and blue bordered set of puzzles.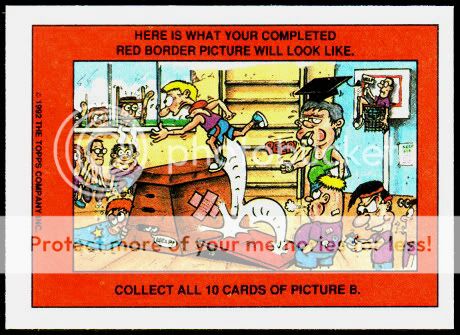 There is a lot more info on the Put-on/Stick-on card sets on bubblegumcards.org including the wrapper and card variations
http://www.bubblegumcards.org/PutOnStickers.html