Some day when I get a good chunk of money I'm going to build a Drive-in Theater.
I was lucky enough to grow up in a town where we had two of them. The "Starlight" and the "Hillcrest" two of the last drive-in theaters in Iowa.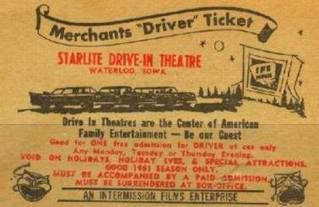 The Starlight was located on University Ave. which is the main strip in town. This is where I saw my first movie "The Muppet Movie" with my parents. I can remember heading home on summer evenings as a kid and driving by the Starlight and looking up at the big screen to see what was playing. Sometimes dad would cruise by slow and tune the radio in so we could hear the audio.
The Starlight closed when I was in Jr. High and they built a Hy-Vee grocery store in its place. If you go in the food court of the grocery store they have a little shrine dedicated to it and some of the old advertisements and tickets and one of the speakers that you hooked onto your car window on the original pole (I'll have to get a photo of that).
Just outside the west end of town off the university campus was the second drive-in the "Hillcrest". This one was just far enough out that you'd get a nice purple summertime sunset just as the "three stooges" shorts would start up. Nothing was better than seeing if you could stay up for all three movies under the stars and being one of those last five cars to turn on the headlights and drive out as the credits rolled down that giant screen.
I remember taking my wife out on dates and driving home with her sleeping next to me curled up in a blanket. We still laugh about how crazy we were crawling into the back seat and fogging up the windows and hearing people laugh as they walked past our car to the snack bar.
I remember once when my mom made me go along with my sister Linda on her date to chaperon and trying not to laugh from the backseat watching her date try and scoot in closer and get up the nerve to put his arm around her.
Once I bought this beat up car from a guy for 200 dollars and it was a stick shift so I spent all afternoon trying to learn how to drive it so I could take it to the drive-in that evening. I drove up and down Main St. stalling it over and over with cars honking and people flipping me the bird. I never got the swing of it but got it to the drive-in that night anyway. It was a tiny little car and it had been in a bad accident with a deer so the hood was entirely caved in. I parked it backward and opened up the hatchback and laid down the backseat so we could watch the movie out the back. At the end of the night I barely got the car home and it died in the driveway behind my mom's house where it stayed for over a year. I always thought that was funny how I bought that piece of shit car and it only lasted one lovely summer day. Later on that summer I got in a big fight with my parents and I ran away from home for about two weeks I thought I could sleep outdoors but after a few nights under bushes I remembered that hatchback and went to sleeping in that car. One night I remember real well my friend Caruso slept in there with me and it was one of those hot sweaty dog days in July it had to be 110 degrees in there we tossed and turned all night trying to sleep.
When I turned 18 I moved into my first apartment at this place called Gold Falls Villa with two guys that had a roommate moving out. Our apartment was on the third floor and had a balcony on the west side. The first night I stayed there I found out you could see the screen of Hillcrest out in the country a ways so I would sit out there and watch with binoculars. I didn't have a car at that time and was used to walking back and forth to work everything. One night I got an urge to walk out to the Hillcrest and it was a beautiful night so I walked about half a mile down the highway to the drive-in and walked in the exit (it was surrounded by a tall wooden wall/fence) and I laid down in the grass in front of the screen and watched the movie. I went to the snack bar and got a hot dog and stuff and nobody seemed to notice. I had so much fun doing it that night that I kept doing it over and over again all summer. I must have seen the X-files movie a dozen times.
One night I had a get together at my apartment and I convinced about ten people to walk over there with me and lay in the grass and watch the movie. So we all walked down the road and as we got closer more people chickened out and headed back to the apartment until there were only four of us left (Eric Starret, Sara Stanbough, Adam Weir, and Brian Potter) I still remember, We snuck in the back entrance during one of the dark scenes when there was barely any light and ran along the fence one by one till we were all in there. We met by the bathrooms at the snack bar and got burgers and hot dogs. Then we all laid in the grass in front of the screen and put our heads on each others chest like pillows. We had to give all the others a hard time later for not having enough guts to do it.
I decided I wanted to work at the Hillcrest so I went there one afternoon and had an interview with the owner in the back of the snack bar. He showed me around and took me on a little tour which included the projection booth and everything. One of my favorite parts of going to the drive-in was those retro shorts they show before and between the movies. They have like ten minutes till showtime with french fries dancing around and jumping into the fry vat, kittens and flowers and long shots from a plane flying over the mountains set to music from the sixties. The guy showed me all those film reels and how they load them and stuff. The Drive-in was too far into the season to hire any new employees but he had told me that he would keep my application on file and get in touch with me the next summer when they reopened. I never ended up working there but it sure would have been fun.
One afternoon my friend Caruso and Eric and I went in there when it was closed and took a bunch of pictures but only a couple came out.
Here's a photo of Caruso and I holding the speakers up to our ears.
This is a picture of Eric and I climbing up the drive-in screen. You can barely see us.
The Hillcrest closed down for good in 2000 and everyone in town seemed to make it a point to go out for one last starry night before it would be gone for good. A developer had made an offer to purchase the land to build college apartments and the owner sold it and it was torn down. Ironically the final movie that was shown there was "Gone in 60 Seconds"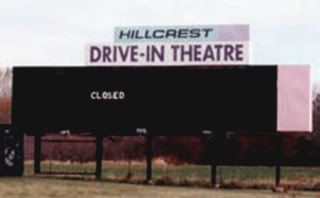 I took one final trip out there to snap some photos after they had torn down everything but the ticket booth near the gravel entrance and saw the funky 50's looking metal hood that was the roof of the ticket booth laying in the gravel to be hauled away.
I'm sure it's obvious that the Drive-in was a sentimental place for me and won't find it hard to believe that I still get teary-eyed when I think about it. I guess the thing that bugs me the most is that those days are gone and the drive-in theater is a thing of the past. I