On to the next set of trading cards from Topps in 1980... Star Wars: Empire Strikes Back.
A whole butt-load of cards separated into three different series.
The first series has the red box/border, each pack containing 12 movie photo cards, bubble gum, and alphabet stickers kids used to spell out their names. With the popularity and anticipation of the movie the cards were a sure-fire hit.
Series 1 box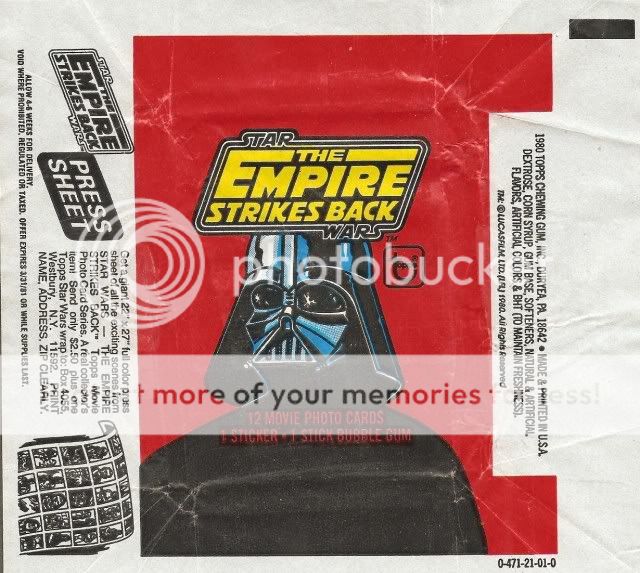 Series 1 wrapper
The first ten cards were "Star Files" spotlighting the ten major characters. I always thought it was funny back in the 80's when C-3PO and R2D2 were always spelled out as See-Threepio and Artoo-Deeto. Back in the 1980s a lot of the names weren't established or as important as they are to current fans so looking through the cards is kind of fun remembering how we used to refer to them. There's plenty of examples in the story cards:
Imperial Probot= Probe Droid
Rejuvenation Chamber= Bacta Tank
Surgeon Droid= 21B Medical Droid
Snow Walkers= AT-ATs
Bat-Like Creatures= Mynock
Calrissian's Main Man= Lobot
There are 109 "Story Cards" with movie photos narrating the story and then the last 12 cards are "Space Paintings" cards with conceptual artwork by Ralph McQuarrie followed by 2 checklist cards. That completes the 1st series 132 card set.
The 1st series also had 33 different sticker cards which included the alphabet stickers.
Sorry, I couldn't resist.
Alright, on to series 2...pretty much the same as series 1 (132 cards, 33 stickers). This time there's just different photos and narration and blue box/wrapper.
As you can see by the ad on the series 2 wrapper, Topps was also selling the Empire Strikes Back candy filled heads during this time. There were 2 series of these plastic containers shaped like heads of the Empire Strikes Back characters filled with hard candy. I remember buying these as a kid. I wish I would have saved them since they are of course highly collectible now days.
I don't have scans from the series 2 or 3 cards because I don't own any of them. I do have the wrappers from each series but that's it for the time being. I stopped collecting Star Wars years ago and sold the majority of stuff.
Series 3 is the smallest of the three sets with 88 cards and 22 stickers. This set has the yellow box/wrapper. Once again there are the movie photo cards along with alphabet stickers and stuff.
Once again the ad on this wrapper is worth noting. It advertises a set of four "collecting boxes" to store your sets in. These are a pretty neat idea and a great way for Topps to promote sales to complete full sets.
Finally, in addition to the three standard card series, Topps released a set of 30 giant photo cards. These were kind of like mini posters.
giant card back
That pretty much covers the basics as far as that set goes. May the force be with you!!
Next up: TOPPS NON-SPORT MYSTERY FUN PACK BAG