O.K., this is totally cheating but it's a really good way to increase your odds of getting the random insert cards. You have to buy a little key chain scale that measures ounces and grams (you can usually pick one up at a tobacco store) and take it with you to the store when you know your going to purchase these cards.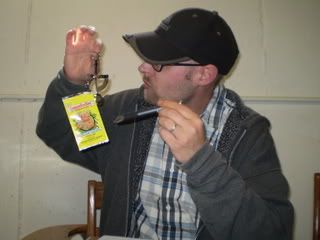 I know...I have no shame.
The insert cards almost always weigh more or less than regular cards so you just grab a box full of packs and start weighing them one by one. Do the math. This works really good. Here's a list of the different kinds of insert cards there are and how much they weigh.
REGULAR CARDS- 2g
SILVER FOIL CARDS- 2g
GOLD FOIL CARDS- 1g
POP-UP CARDS- 1g
TATTOOS- 1g
ALPHABET STICKERS- 2.5g
MAGNETS- 3g
ACTIVITY CARDS- 1g
LOCO MOTION CARDS- 3g
As you are weighing these in the store remember to bask in the warm fuzzy solitude of nerdom. Priceless.