I've been thinking a lot lately about covering a large portion of my body with tattoos. I'm always drawing them up for other people so I figure maybe I should put a bunch on myself. Right now I've only got a couple and they are in bad shape and need to be retouched or covered anyway. I'm also covered with a lot of ugly scars from surgeries I went through when I had cancer in 1999 and just other dumb shit I did to destroy my body. So here's my ideas.
As you can tell I didn't use photoshop to retouch my body or hide how chubby I'm getting so if you don't like it too bad.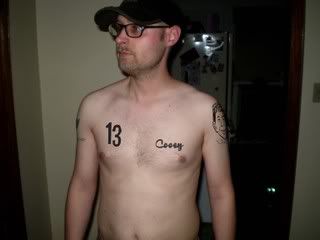 What I'd like to do is retouch the tattoo I have of the logo from my favorite band "The Pixies" on my right shoulder and then I'm going to add the words "TROMPE LE MONDE" underneath it which means "fool the world" in French and was the title of their fifth and final album.
I'm going to get "COOEY" written over my heart on the left of my chest because that's always been my pet-name for my wife.
The number 13 will go across from that on the right. That's for the Pixies song "No. 13 Baby", "She's got a tattooed tit, says number 13"
Alfred E. Neuman's head goes on my left shoulder with the words "Quid, Me Anxius Sum?" underneath which is "What Me Worry?" in Latin.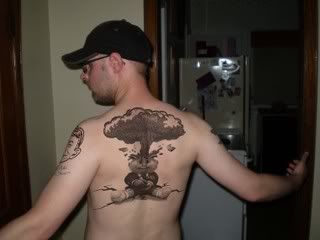 On my back a big old Adam Bomb, the most classic Garbage Pail Kid ever. What do you think, black or color? Leave your comments.